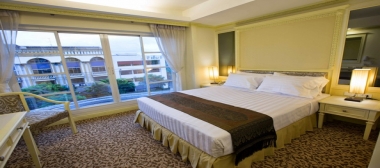 Each of The Brilliant Palace's Aquamarine rooms come with spectacular city views from private balconies. The stylish bedroom features extensive wardrobe, luggage storage space, an international satellite flat screen television and luxury bathroom featuring a rain shower. While additional amenities include a mini-bar, individually controlled air conditioning and an IDD telephone. Complimentary seasoning fruits and Mini-bar stock during your stay.



Room Accommodation Facilities
30-35 sq.m. Carpet floor

Bedroom with twin beds

Private Air condition

Hot and cold running water

Rain Shower

Bathrobe, slipper and rubber slippers in bath room

Hair dryer

Wardrobe

Emergency torch light wall

Room cleaning service (daily or weekly)

Telephone system; PABX, IDD

Refrigerator

In-room Safety Deposit Box

Complimentary Wireless Internet Access

Complimentary daily Mini-bar in room (Alcohol-excluded)

29" LED Digital TV

Complementary daily season-Fruits

Electric key card system

24 Hour security with CCTV property-wide

Smoke detectors

Working/Dressing Table + Chair

Stationary Kit

Complimentary bath amenities set

Private Balcony with Panoramic City Views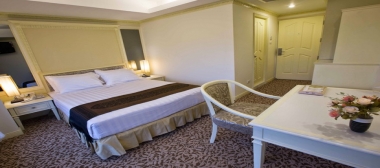 In these luxurious accommodations, rich heritage and sophisticated style come together. Our Pearl Rooms offer travelers a cozy stay. Pearl Room features a king-size or queen-size, comfy bed.
All Pearl Rooms have integral Free Wireless Internet Access. Be relaxed with many free view channels on your 29" flat screen TV, cozy robes, personal Safety deposit box in room, complimentary seasoning fruits and Mini-bar stock during your stay.

Room Accommodation Facilities
20 -26 sq.m. Carpet floor

Bedroom with king-size bed or queen-size bed

Private Air condition

Hot and cold running water

Rain shower

Bathrobe, Slipper and Rubber slippers in bath room

Hair Dryer

Wardrobe

Emergency torch light wall

Room cleaning service (daily or weekly)

Telephone System; PABX, IDD

Refrigerator

In-room Safety Deposit Box

Complimentary Wireless Internet Access

Complimentary daily Mini-bar in room (Alcohol-excluded)

29" LED Digital TV

Complementary daily season-Fruits

Electric key card system

24 Hour security with CCTV property-wide

Smoke detectors

Stationary Kit

Complimentary bath amenities set

Working/Dressing Table + Chair

Panoramic City Views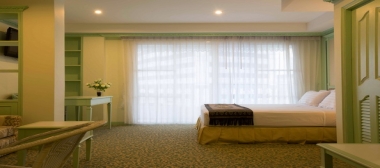 Sumptuously decorated in the same contemporary style, featuring a Sofa and a king-size bed. These are perfect if you are visiting city. Sapphire Room has Free Wireless Internet Access. Relax in the comfortable easy-chair and watch one of the many free view channels on your 37" wall-mounted flat screen TV.

Sapphire Room has a wonderful terrace panoramic city view with beautifully designed working/living area. Each room is equipped with personal Safety deposit box, direct dial Telephone and Hairdryer, Bathrobes. Complimentary seasoning fruits and Mini-bar stock during your stay.


Room Accommodation Facilities
40 sq.m. Carpet floor

Bedroom with King-size bed

Private Air condition

Hot and cold running water

Bathtub with rain shower

Bathrobe, Slipper in bed room and Rubber slippers in bath room

Hair dryer

Wardrobe

Emergency torch light wall

Room cleaning service (daily or weekly)

Telephone system; PABX, IDD

Refrigerator

In-room Safety Deposit Box

Complimentary Wireless Internet Access

Complimentary daily Mini-bar in room (Alcohol-excluded)

37" LED Digital TV

Complementary daily season-Fruits

Electric key card system

24 Hour security with CCTV property-wide

Smoke detectors

Working area with Table + Chair

Stationary Kit

Complimentary bath amenities set

Living Area

High floor Panoramic City View

Complimentary dinner
---
---